The ConScience App  (Dutch version: Gewetenschap)
Het Acteursgenootschap presents 'The ConScience App', a theatre piece designed to move the debate on scientific knowledge from the headlines to the daily work of academic researchers. The play sheds light on challenging scenarios in a lighthearted manner, aiming to start discussions amongst colleagues around common research integrity and culture dilemmas and experiences. For instance, what is the policy on mentioning co-authors? Or on assessing the work of your competitors? How do individuals balance mentoring others and maintaining the quality of research? What is the influence of the duty to publish on the quality of your research?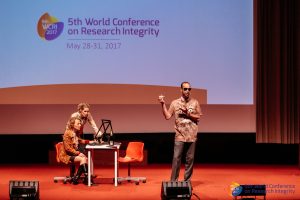 The ConScience App was developed based on ideas from members of The Young Academy of the Royal Netherlands Academy of Arts and Sciences and supported in part by a grant from the Dutch government. It has been performed at the opening session to the 5th World Conference on Research Integrity in Amsterdam in 2017 and at various venues, including universities, research institutes, and conferences in the Netherlands, France, and Norway. The performance is typically followed by 30-60 minutes of discussion around themes raised in the script, with an instruction manual to facilitate discussions.
Synopsis
Promising academic Jeroen Dreef is undertaking pioneering research at a Dutch university. With a disappointing PhD candidate and dito research data, and a professor breathing down his neck, he is in a race against the clock to beat his international competitors and to ensure his position at the university is safe.
Information
Duration: play (40 minutes), discussion (30-60 minutes)
Writer and director: Tony Maples (Pandemonia Science Theater)
Actors: Loek van den Wijngaard, Elske Rollema and Suzanne Spliethoff
Technique: Olaf Paulisse
Contact: info [at] hetacteursgenootschap.nl
An instruction manual for the discussion is available 
The Royal Society and the UK research and integrity office has recently selected The ConScience App as one of the highlights in their Integrity in Practice Toolkit :
Download: UKRIO-Royal-Society-Integrity-in-Practice

Performances
October 11th 2023 – Introductory meeting PhD's – Leiden University
July 5th 2023 – Introductory meeting PhD's – Leiden University
March 20th 2023 – School of Business and Economics (SBA) – Vrije Universiteit Amsterdam
Februari 1st 2023 – Introductory meeting PhD's – Leiden University
November 16th 2022 – Introductory meeting PhD's – Leiden University
September 14th 2022 – Introductory meeting PhD's – Leiden University
September 13th 2022 – CWI – Science Park Amsterdam
June 7th 2022 – Tilburg University
May 25th 2022 – Introductory meeting PhD's – Leiden University
March 1st 2021 – Netherlands Institute for Neuroscience, Amsterdam
January 26th 2021 – NWO-NIOZ Royal Netherlands Institute for Sea Research, Texel
January 19th 2021 – NWO-NIOZ Royal Netherlands Institute for Sea Research, Yerseke
January 14th 2021 – NWO-NIOZ Royal Netherlands Institute for Sea Research, Texel
September 7th 2020 – Het Nederlands Herseninstituut (NIN-KNAW)
June 30th 2020 – NWO-NIOZ Royal Netherlands Institute for Sea Research, Yerseke
June 17th 2020 – NWO-NIOZ Royal Netherlands Institute for Sea Research, Texel
June 15th 2020 – NWO-NIOZ Royal Netherlands Institute for Sea Research, Texel
May 18th 2020 – Introductory meeting PhD's – Leiden University
March 30th 2020 – Introductory meeting PhD's – Leiden University
January 27th 2020 – Introductory meeting PhD's – Leiden University
November 18th 2019 – Introductory meeting PhD's – Leiden University
October 31st 2019 – APH Annual Meeting "Urban Health" – Theater de Meervaart – Amsterdam UMC
September 9th 2019 – Introductory meeting PhD's – Leiden University
June 6th 2019 – Theater aan het Vrijthof – Maastricht University
May 21st 2019 – League of European Research Universities (LERU) – Research Integrity Symposium – Leiden University
May 20th 2019 – Introductory meeting PhD's – Leiden University
March 25th 2019 – Introductory meeting PhD's – Leiden University
February 15th 2019 – Research Integrity Rounds – Radboud University Medical Center Nijmegen
January 21st 2019 – Training programme – Leiden University
March 29th 2018 – School of Business and Economics (SBE) – Vrije Universiteit Amsterdam
February 28th 2018 – Annual Conference – The Norwegian National Committees for Research Ethics, Oslo
December 12th 2017 –  International seminar on Research Integrity – Maison de la Chimi, Paris
December 7th 2017 – Week on science integrity – Erasmus MC, Rotterdam
October 4th 2017 – Open debate on common dilemma's for scientists – Erasmus Research Institute of Management (ERIM), Rotterdam
September 19th 2017 – Research Ethics Forum – Opera House, Oslo
May 28th 2017 – 5th World Conference on Research Integrity – VU medical Center, Amsterdam
September 7th 2016 – Research integrity for master students – Faculty of Humanities, Utrecht University
June 15th 2016 – Integrity for doctoral students – Faculty of Science, Radboud University Nijmegen
December 16th 2015 – Ethos of Science – Radboud Honours Academy, Radboud University Nijmegen